This is Why the Time is Right to Sell your Rocklin Home
If you're on the fence about selling your home in Rocklin, this might just push you over the edge. Rocklin is having a housing shortage! There is currently less than 1 month of inventory on the market. We haven't seen numbers this low in more than 2 years and we haven't seen lower than this since 2012!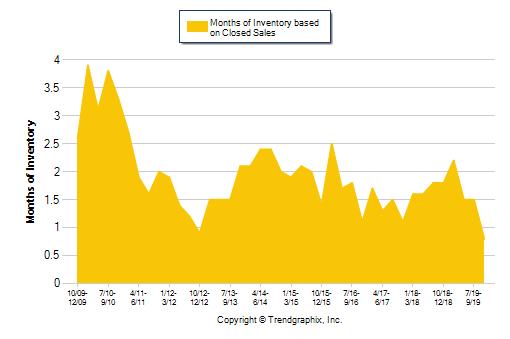 What does low inventory mean if you're selling your home?
It means Rocklin is in the midst of a seller's market! Here's why you should take advantage and consider selling within the next 6 months:
Your house will sell in fewer days (less days on the market means less days of inconvenience).
You will have competition from Rocklin home buyers. Fewer houses available means more eyes on yours. Expect multiple offers and possibly a sales price over list price.
Demand is the Driver
Buyers have such a small amount of houses within their budget to choose from that they are feeling pent-up demand. Demand drives competition. When buyers get tired of loosing out to stronger offers – they start to bring their A game. During a seller's market I see buyers come in with their best foot forward – higher offer prices, shorter inspection and contingency periods, larger deposits, and shorter escrows. Buyers will even take on minor repairs that they would usually ask for in a buyer's market.
If you're lucky enough to be a Rocklin seller right now, you can expect more money for less money and time.
Do you Really Want to Stand out in this Seller's Market?
Even though right now is the best time to sell your home in the last 2+ year, there a few things you can do to make your Rocklin home stand out even more!
Prepare your Home. Unlike a buyer's market, you won't have to make lots of repairs or updates during a seller's market. But you should CLEAN and DECLUTTER from top to bottom to really make your home shine. Trim back any overgrown bushes and trees and give your lawn a fresh mow at least once a week while you're home is on the market. You won't regret any time spent making your house sizzle in the eyes of Rocklin home buyers!
Pictures Sell a House! I use professional photography on the majority of my listings because there is a HUGE difference in quality. Think of the last time you shopped for a house and saw beautiful and detailed photos. Didn't it make you jump to check it out? The same thing will happen with your house. Great pictures will entice buyer and dark, unflattering pictures will turn off some buyers.
List your Home on a Thursday. Most buyers are looking at homes on Friday-Sunday. Buyers always want to see the newest homes on the market – not the homes that have been sitting there for weeks. Ask your Rocklin real estate agent to list your home on Thursday night so that buyers are notified on Friday morning. That will maximize your first weekend on the market by getting as many eyes on your property as possible. Buyers will be running into each other which encourages interested buyers to hurry and make an offer before someone else does.
List to Sell. Even though it's a seller's market – buyer's will NOT grossly overpay. They won't be interested in even looking at a house with a listing price that seems too high. Instead, list your house just a smidge below your best sales comparable. If a similar house just sold for $563,000 – consider a listing a listing price like $559,900. This is simple pricing psychology and from over 22 years of selling real estate in Rocklin, I can tell you it WORKS! You'll have more buyers looking and probably an offer over asking price. You'll get a higher offer in the long-run than listing too high and having to make price reductions.
Don't Play too Hard to Get. I cringe when I see Rocklin real estate agents give a timeline for offers. Statements like "All offers will be reviewed Thursday at 6pm" is a turnoff for so many. First, buyers don't want to wait to hear a response to their offer. Buyer's don't like games in a seller's market, they want to move on. Second, it scares some buyers into not even attempting an offer because they feel like they won't have a chance next to other buyers. But who knows? Maybe they would have been the best offer!
Time to Review your Seller's Market Offers
You will probably get some great offers by following my real estate tips above. How do you choose the best offer? Your Rocklin real estate agent will be invaluable during this step. It can be overwhelming separating the good offers from the iffy ones. Here are some points to consider:
Highest isn't always the best. Anyone can put any price on the offer. But will that price appraise? If you're buyers are using financing, they have to get an appraisal. If the buyer's offer is for $580,000 but the house only appraises at $567,000, there are a few things that can happen. First, they will ask you to lower the price to $567,000 or meet someone where in the middle. Second, they might be able to bring cash to escrow to make up for the $13,000 difference. But some buyers can't do that! Third, they might have to cancel the sale and you'll have to start your buyer search over again. Be very careful to avoid accepting a financed offer that won't appraise!
How much is the deposit? Standard in Rocklin is 1% of the purchase price. If it's less than that, you'll want to counter-offer at 1%. If it's more than that, it really shows the buyer is serious!
How long is the contingency period? In a seller's market, the shortest contingency period, the better! If you'r buyer want to back out, they need to do it quickly so you can get back out there while the market is HOT. Something like 10-12 days for a buyer using financing is fair. I've seen even more ambition with case offers. Sometimes those are shortened to 3-7 days!
How much do they really want it? If you can't decide between two or more similar offers, can you find out how emotionally invested each buyer is? Buyers who are emotionally attached are most likely to actually close escrow. Your Rocklin real estate agent might already be able to share some insight about the buyers. For example, a buyer that wants to move into the same neighborhood as her family will be MUCH more attached than the investor who is more concerned with not overpaying in order to make a good investment – Investors will bail when repair costs or reports come back that may be too costly.
It's time to take advantage of this Rocklin Seller's Market. They don't come around all the time and it's impossible to say how long it will last.
Have any Real Estate or Property Management Questions?
I love to talk real estate and help my community better understand buyer, selling, or renting in Rocklin. Give me a call (916) 205-2265 or shoot me a message: allanshomes@gmail.com and I'll be happy to answer any questions you have! – Allan Sanchez
This is Why the Time is Right to Sell your Rocklin Home